Finding Freedom in a Tent
---
October 4, 2022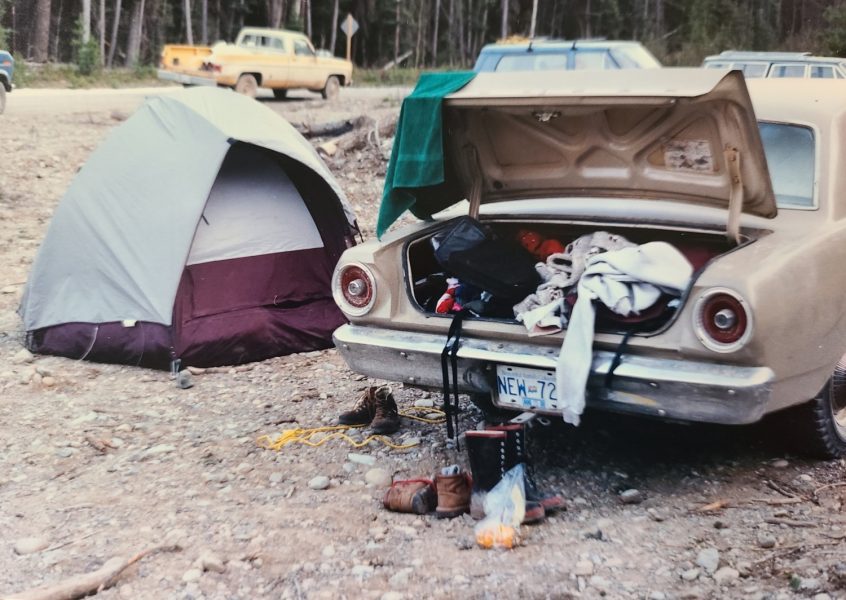 Wander a whole summer if you can…time will not be taken from the sum of your life. Instead of shortening, it will definitely lengthen it and make you truly immortal.   John Muir
Many peak experiences in my life have somehow involved needing a tent.
I had never actually slept in a tent until I was eighteen and I signed up for a thirty day Contiki camping tour (less expensive than the hotel tour) in Europe.  I had saved money with a job hoeing fields at a nearby farm.  To a small town girl so eager to escape the coop that I was entertaining the prospect of travelling alone, a tour felt less terrifying.
Travelling to Europe blasted my previously sheltered life totally open.  It wasn't just the sights and experiences: exploring the streets of Florence, climbing to the top of the Pisa tower, seeing the Mona Lisa, riding a gondola in Switzerland or visiting the Heineken Brewery on my 19th birthday – it was this exhilarating new sense of freedom and the discovery that life was an exciting adventure brimming with possibility!  Since I was on a camping tour our group had to stay in campsites on the outskirts of cities – driving in on a big colourful bus like a modern nomadic tribe. On the seat of this bus I made a promise to myself that no matter what, in the future I would always find ways to travel, because this was clearly the best thing in life.
Tents appeared again not long after my Europe adventure.  I started treeplanting as a summer job to make money (the most money I could) for university.  This was in 1989 when the general consensus was that this job was too brutal for women.  People I talked to said "you probably shouldn't go" and my boyfriend at the time was dead set against it.  But after my life changing experience in Europe, I was learning that the more something freaked me out, the more awesome it might be.  I did also make that promise to myself on the bus to "always find ways to travel".  So I broke up with my boyfriend and was hired on "Fleenors'" crew (a man who later became my husband of now 22 years).  There were only three women on a crew of over twenty gorgeous guys (probably really why my boyfriend did not want me to go).  I did not care about the money anymore which was good because I made very little at the start.
For treeplanting, I purchased my very own tent – a burgundy and gray dome tent from MEC.  I remember the first night sleeping under it's translucent material, in a remote camp somewhere near Prince George.  My new friend, Lindsey, had her own new blue half circle set up next to mine.  No sleep occurred that night as, freezing cold, I vividly imagined bears sniffing and stomping all around the camp.  I may have also heard the saying that sleeping in a tent "makes you a human burrito for bears".  The next morning, shivering in line outside the cook shack in our new fleece jackets and feeling like visitors to another planet, Lindsey confessed – much to my relief – that she had also had a terrible night.  So it was solved.  That night we put all our gear into my tent, moved both our sleeping bags into her's and then slept in the same tent for the rest of the season.
By the way, insider tip: always peg down your tent.  On one very windy summer day, in that same camp, some planters returned from the block and could not find their tents.  They had blown away.  After literally not being able to find them anywhere they had to get new ones.
During my early twenties, I felt at home in my tent; whether it was camping on Hornby Island or treeplanting in another remote area of B.C.  I was eagerly exploring this new sense of independence and freedom that I felt.  Maybe my tent also reminded me of the forts I used to make with my younger sister on the beach in front of our house where we grew up.  Pretending we were shipwrecked on an uninhabited island, we would be in our imaginations for hours as we gathered shells for dishes and seaweed for food.
Many years later, I have stayed true to the promise I made in Europe to travel – or more accurately:  to face my fears and be curious about what is around the next bend.  I have also discovered that I am happiest outdoors.  This promise to keep exploring has consistently brought me valuable rewards (such as new or closer friends, a husband, good stories) and chances for growth. I have learned how long I can live without a shower and have no problem peeing in the bushes.   With a tent I have been able to access remote wilderness areas you could not access otherwise, such as; in Strathcona Park or the Westcoast Trail – or more recently on canoe trips, such as my Alsek River Trip, Sayward Lakes and this past summer the Bowron Lake chain.  If there is a trip that involves sleeping in a tent, I'm usually "in"!
Image above:  Photo of my burgundy tent, second year treeplanting.  This time I also had my 1966 Ford Falcon with me, so I didn't have to store everything in my tent.  My future husbands' yellow Ford truck (Yella Fella) happens to look like it is sitting on top of my tent.
---