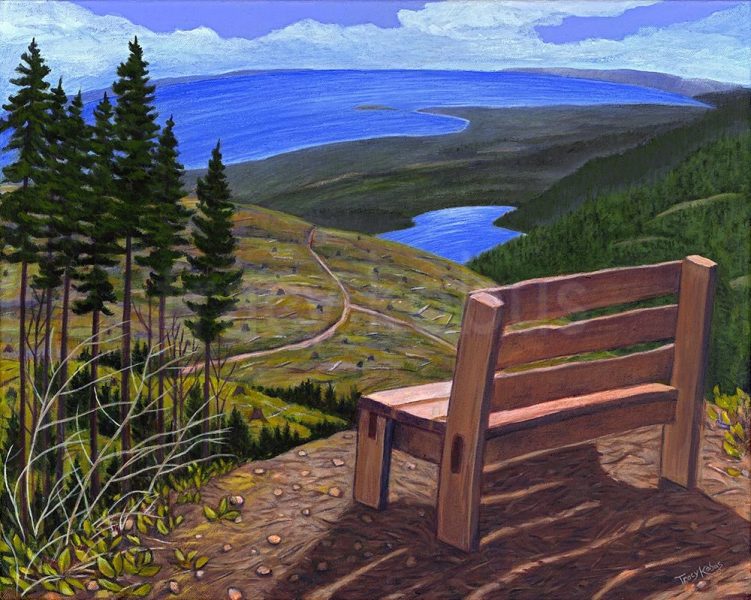 Reflective thinking turns experience into insight. John C. Maxwell
This painting is loosely based on a view of the Comox Valley, perhaps from Cumberland or somewhere in the Beaufort Mountains.  It describes the place in a mountainbike ride or a hike you enjoy after having done the hard work of getting there.  Here you may have a snack, sketch, take a couple deep breaths or take a nap.  You may be with others sharing light conversation or a meaningful moment.
By stopping at a viewpoint we are in some way acknowledging where we are in time and place.  The hills in the distance may be where have travelled in the past, a future destination or someplace completely unknown – a place where we will never go.
The act of "taking in the view" happens in our own lives when circumstances may force us to review our past or other life moments draw us to retrospection.  For me, this is the year I turn 50, a point where it feels like I have been on a long journey and it seems natural to want to survey the past.  I am now at an age where I can see where some of my past decisions have lead to.  Thankfully they have lead me to some pretty great places.
I've often thought that one of our main purposes in life is simply to notice and appreciate all the little or great things that surround us, whether it is nature, people, places, events or a moment in time.  The wooden bench in this painting  is an invite or maybe even a request to stop, that this view is worthy of your attention or somewhere special to share with others.  Going into the future I would like to try not to bypass any of these invites to reflect, share or appreciate what I have been given.
Painting:  View I, acrylic on canvas, 16″ x 20″, 2020
---