Time and Place - Growing Up at Point Holmes
---
July 30, 2019
Being a member of a place is to be in a relationship.  But if you do know what is taught by plants and weather, you are in on the gossip and can feel truly at home.  Gary Snyder
Every time I visit the place I grew up – Pt. Holmes on the windy tip of the Comox  Peninsula – I  still feel very connected to the smells, sounds and sights.  It feels like visiting an old friend or relative.
My parents moved out west from Ontario in the summer of 1976 when I was five and my sister was not even two, and had a house barged onto a south exposed beachfront property which was until then, a parking lot. My mom grew up on a Mennonite farm and my dad was a geography teacher – neither of them had ever been to the west coast before.  I remember at the time it was all beyond exciting, like we were breaking new ground in a fascinating world – and in a sense we were, no one had maybe lived in that spot for at least a hundred years, if at all?  If they did, it would have been a very different life than mine.
My family didn't go on many outdoor trips but half my life felt like camping, especially in the summer.   My sister and I learned the positions of the large rocks and logs on the beach – our main walking routes.  As the tide was going out we knew how long it was before the patch of sand was exposed in front of our house.  We were the first to see what washed up with the tide (which included a sea lion once that had to be removed with a crane) and heard the background presence of the resident seals and eagles occasionally drowned out by the loud boat motors of fishermen speeding in with the day's catch.  During the hottest months our skin was as dark as red cedar and our salty hair was several shades lighter.  My sister and I became unlikely inheritors of a rich and mysterious environment.
Now when I walk on the sand by my old house or see the same rocks that stick out like focal points in a composition, I feel like I am eight again.  When you experience the same place day after day for years you get tuned in to it's habits and behaviours or notice when something is different;  like a particularly bad storm or vibrant sunset.  Eventhough I don't fall asleep to the sound of the ocean's breezes or violent storms anymore I still feel welcome as a familiar friend.
Photo:  My sister, Danielle (L) and I behind a fort we built in front of our house, 1979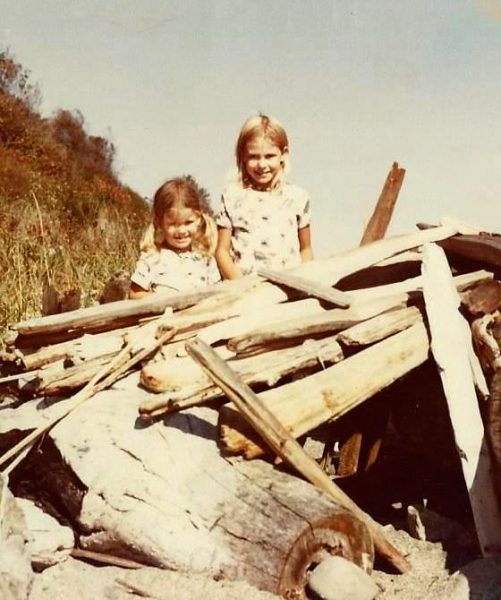 ---