What You Need to Know About Giclees
---
October 6, 2020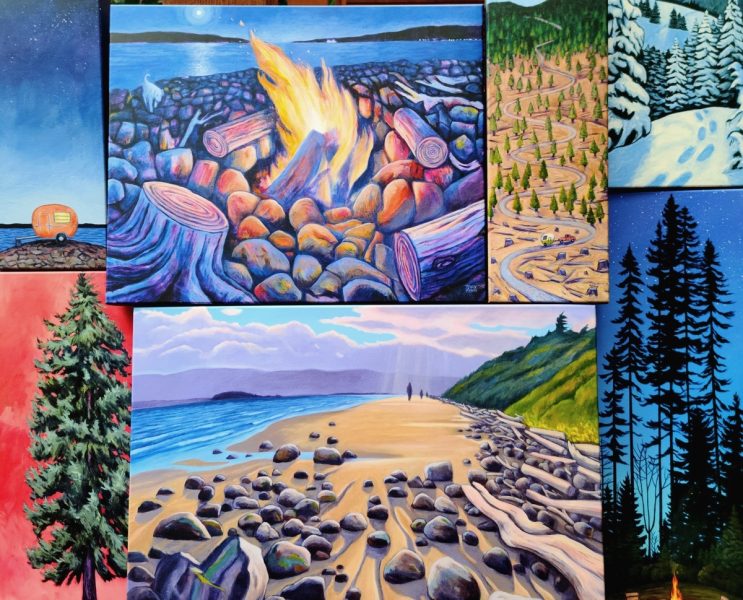 For the past several years my paintings have been reproduced into giclee prints  (pronounced "gee-clay") by Rob Lundquist who lives in Merville.  The first painting I asked him to scan was the 4' x 5' Every City Needs One with it's giant red heart over the city in 2012.  Rob did not balk at the challenges of scanning such a large painting and he has been producing my giclees ever since.
The value of a giclee starts with the scan of the painting which turns into a computer file up to 400MB in size which is then painstakenly colour checked.  This is all done so the print will perfectly match the original.  The image is then reproduced on a large printer with archival pigment ink (same pigments used in paint) and on museum quality paper or canvas.  Giclees may also be ordered individually and in a specific size, so I don't need to have many in stock.
Lately I've been ordering mostly canvas giclees (instead of paper) which I decided will all be editions of 200, limiting the amount of signed canvas' there will ever be. The canvas prints are stretched tightly on solid wood stretchers, also made by Rob and are ready for hanging.  With canvas prints I don't need to worry about framing in glass or packaging in plastic sleeves.
My painting process is slow and despite my best efforts to create more, I seem to do only five or six originals a year, which may sell as soon as they are complete.   I have had people visit my studio or booth that dislike prints and only want to see originals which is fine but without giclees I would have only a few paintings to show and not necessarily my favourites. Giclees allow me to share my work with a larger audience, they have more accessible pricing and I feel proud of their quality.
I am grateful that I have the option locally to make reproductions of my artwork as it is a means of creating a livelihood and also of supporting others in turn such as Rob, Sure Copy, other printers and gift shops.  I also get to have interactions with way more people.  Now when a painting sells it's not like it is gone forever, I have an excellent record of it and may print one out anytime.
You may find my giclee prints in my SHOP, at a particular GIFT SHOP or you may CONTACT ME directly to order.
---