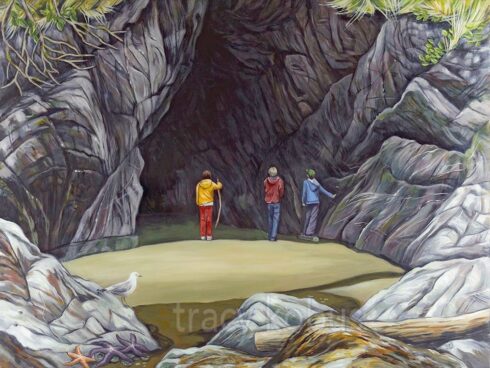 Tofino Cave, 2023
The cave in this painting at the outer edge of Chesterman's Beach, near Tofino.  You can only get to these sea caves by walking around the headland at a very low tide.  The kids here are my son and his two childhood friends, now young adults, heading out into the real world – which these days seems to have more uncertainties that ever.
I remember my own life at this time being about making decisions, sometimes giant leaps of faith, and that you really had no idea how they would end up shaping the rest of your life.  Kind of like peering into a dark cave, exciting and mysterious.  This unknowing was all part of the adventure and excitement; full of the feeling of unending possibilities and a curiosity as to where things might lead.
This painting is a reflection on our kids starting the journey of growing up.
Original:  30″ x 40″ acrylic on canvas, $2495