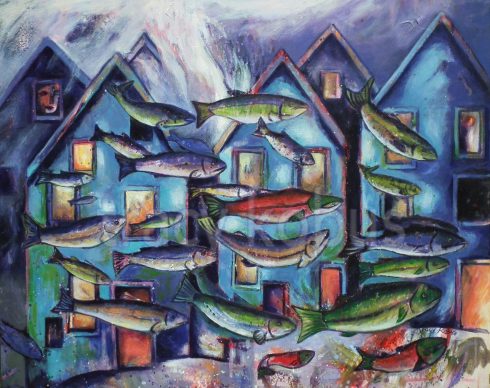 Never Leave Us  2011
In this painting salmon are swimming past a series of blue houses.  My husband works as a fisheries biologist so it is no surprise that fish would feature in my work at some point.  Once, during a restoration project, my husband was standing on a bridge beside a local First Nations man.  They were looking at the fish spawning below when the man said something like: "it's amazing that they never leave us" – talking about the fish.  When my husband told me this it struck me as it turned things upside down;  we think we are taking care of nature, but actually nature is taking care of (and somehow putting up with) us.
In this painting I am playing with reality as it is may be hard to tell if the houses are under water, or are the fish in the air? Have all the ice-caps melted leaving the world flooded?  The fish though are still with us.
Original:  24″ x 30″ acrylic on canvas, SOLD