P'Kols Commission
---
March 10, 2020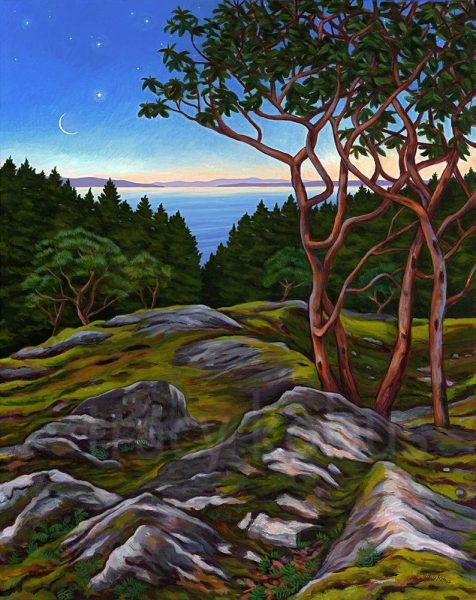 This artwork is a commission for a friend who works as a landscape architect in Victoria.  He wanted to give his wife a painting of the place where he proposed to her – such a romantic present!   I worked from photos he had taken of the location and created a vertical composition using the rocks as a key element to lead your eye to the trees, the water and eventually the new moon. I enjoyed arranging the branches and playing with the negative spaces of the arbutus tree – the first time I have painted one.  The placement of the new moon means it is perhaps shortly before sunrise.  Mystery and romance are heightened in the low light times of day.
It was interesting to read some history about Mount Doug.  It's original name:  "P'kols", translates to "White Head" describing the place where glaciers last receded from Southern Vancouver Island – the dawn or dusk of an era. You may read more about the interesting history of Mount Doug HERE.
Below is a photo of P'kols in it's own little alcove at night, a meaningful focal point in my friends' home.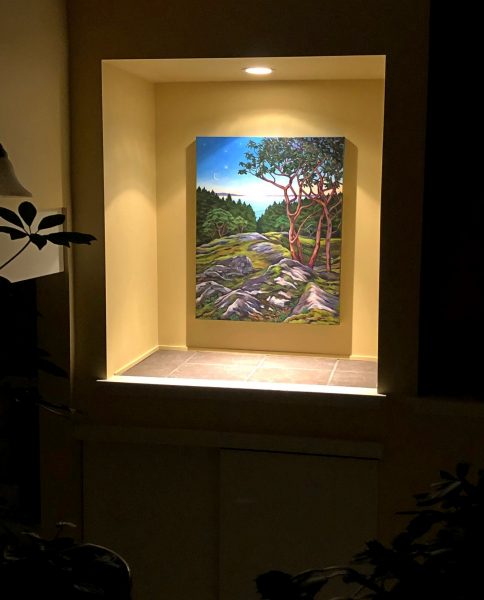 ---