New Painting: Commute
---
November 1, 2018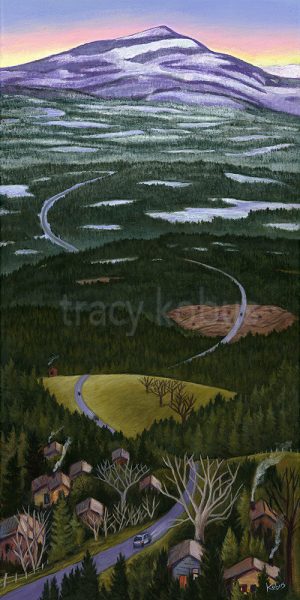 In my latest painting "Commute", Vancouver Island locals may recognize Mount Washington in the distance.
Spending time at our local ski hill is a welcome escape from winter grayness, (less expensive than a plane ticket) and also a great way to spend time outdoors.  The windy road up to Mount Washington from the Comox Valley, gradually transitions from greenery (or fog) to a white snowy landscape – passing clearcuts on the way (some of them I have actually tree planted in).
When you return down the hill you feel as if you have been on a huge journey even though you may have only left home for a few hours.
This easy distance allows some people to visit the mountain on almost a daily basis, sometimes jokingly called "the morning commute" (except for those who do actually work there in which case the term isn't as funny).  I liked how the title "Commute" is similar to the word "commune" which means to "communicate intimately".  A daily or weekly "commute" to Mt.Washington, allows us to "commune" with nature in winter, when we tend the otherwise spend more time indoors.
View Painting Details HERE
---