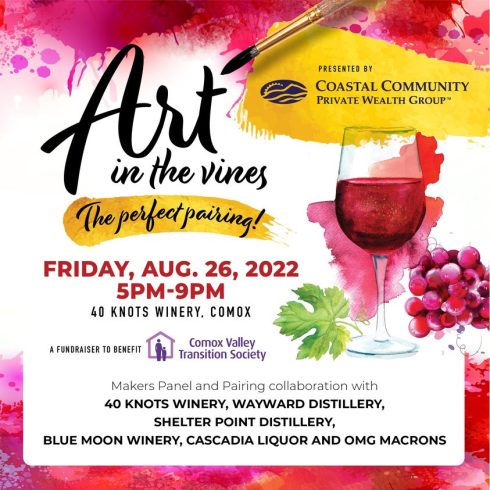 ART IN THE VINES, The Perfect Pairing event brings together the best of the Comox Valley on Friday, August 26, 2022 from 5pm-9pm at the award-winning 40 Knots Winery, Vineyard Terrace, and throughout the vines.
Guests will enjoy a makers panel and pairing collaboration with 40 Knots Winery, Wayward Distillery, Shelter Point Distillery, Blue Moon Winery, Cascadia Liquor, and OMG Macarons. As well as Pop Up Studios hosted by artists of Comox Valley that will be sprinkled through the vines!
Don't miss out on this great event! Purchase your tickets and register to bid on the amazing silent auction today!
Talented Artists include Christine Boyer Art, Roberto Fioravanti, Ramona Gregory, Lisa Joan, Sara Kempner, Tracy Kobus, Sharon Lalonde, Deb Salmon, Esther Sample, Wendy Morosoff Smith, Maggie Ziegler Art & Design.
Get tickets HERE